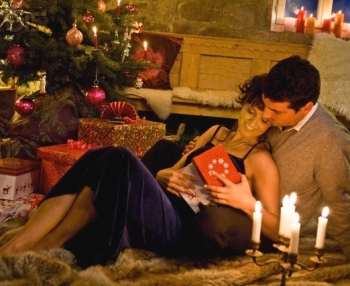 Hey Guys! My husband had a great suggestion for men's gift-giving this Christmas! … Be Thoughtful!
How? How about getting your wife's Christmas gift before Christmas Eve! It's amazing how "when" the gift was purchased might actually mean more to your wife than "what" was purchased. The earlier you purchase the gift the more it says, "I'm thinking of you" and "You're important to me!"
How about spending more time thinking about the big-screen TV (I mean…your wife) than the big-screen TV. It's hard to get your wants off center-stage, but putting your wife's wants/needs first may be a good investment.
I was going to suggest that you guys spend some time thinking about and maybe even jotting down some thoughts about your wife–her likes, her dislikes, anything she's mentioned in passing in the last while as a gift possibility. But my husband said I ought to scrap that, and just ask her what she wants.
If you're wife is like me, though, you don't get as many points if it's not a surprise, so maybe ask for a list of multiple (specific) gift ideas, so that you can get one exactly right. (Women, help him out by making it as easy as possible for you to be delighted Christmas morning!)
Gift Ideas
Here are a few gift ideas for women to get you started:
12-days of thoughtful acts
A couple hours of housecleaning
A pedicure
A gift certificate to her favorite store
A gift certificate to her favorite restaurant (Date night!)
A professional massage
A PajamaGram (www.pajamagram.com)
Movie theater tickets
Her choice of household projects for you to complete without complaint
A day to herself
An overnight getaway with YOU!
Merry Christmas Everyone!
p.s. If you have other gift ideas for wives post them here and we'll add them to the list!