The Dating Divas Marriage Bundle
All The Best Marriage Resources in ONE Place!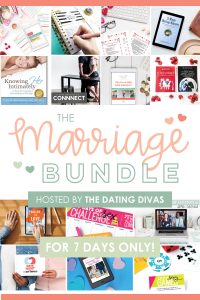 In our society, there are few positive, affirming messages about the godly nature of sexuality, or sex in marriage. We rarely hear messages that it's good and healthy to develop one's sexuality as a vital dimension of marriage. Consequently, few make it into marriage with a good, healthy, and divinely ordained sexual identity.
If you struggle with the sexual relationship in your marriage…
If you don't see sexuality as part of your divine identity…
If you struggle to fully embrace and develop that aspect of your marriage relationship…
Laura's "Unleashing Your Sexual Potential in Marriage" resource is for you! Laura invites women everywhere to awaken and transform their identity into a godly understanding of the vital role sexuality plays in individual wholeness and marital oneness.
As a licensed marriage counselor and sex therapist, Laura has so many helpful insights and her practical tips have helped so many embrace their own sexual identity. Talking about sexuality definitely isn't a bad thing, but, let's be real, it's not exactly comfortable territory for most of us – especially when there are issues going on!
And it gets better…. Laura's resource is just ONE of many in The Dating Divas 2019 Ultimate Marriage Bundle!
We've teamed up with The Dating Divas and a bunch of other marriage-strengthening bloggers, designers and experts to create The ULTIMATE Marriage Bundle! You'll get the very best marriage courses, ebooks, and printables in one place just for YOU, including a $50 off coupon to our next Couples' Valentine's Cruise – Feb 2020 to the beautiful Mexican Riviera with Laura as the headliner!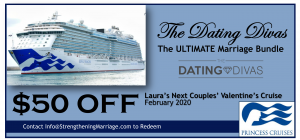 I mean, who doesn't want to enjoy a closer, happier, more intimate and passionate relationship with their spouse? The Marriage Bundle includes: e-books, marriage challenges, and printables to help you overcome common obstacles and work together to create the marriage of your dreams… all while having a whole lotta fun! We teamed up with all of our favorite marriage experts, bloggers, and designers to create the ULTIMATE Marriage Bundle!
Only Available July 22-28!
If this all sounds too good to be true, that's because it might just be! We can't keep this crazy deal around forever, folks. It's just THAT good. So you HAVE to ACT FAST! You see that lovely little timer below? Well, it's ticking down! And when it hits zero, this deal DISAPPEARS!!
NORMAL PRICE = $35
USE OUR COUPON CODE FOR $15 OFF
STRENGTHENINGMARRIAGE
FINAL PRICE = $20!!
(Available through July 28th)