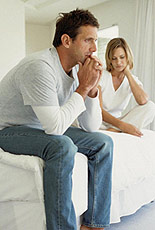 News of marital infidelity among politicians, celebrities or anyone, for that matter, is heartrending. Hearts are broken, and lives and careers are destroyed. Everyone involved ultimately suffers.
It's not just the news that attests to the need for some discussion of this subject. It's also happening to those around us. No one is immune to the temptations of the adversary. Monogamy in marriage is certainly possible, but effort on our part is needed.
Satan's Great Counterfeit
Extramarital affairs are Satan's great counterfeit of the real thing found only in marriage. He deceives many into believing that the grass is greener… It's a big bold lie leaving many casualties in its wake.
In defining this relationship counterfeit, Peggy Vaughn, author of Preventing Affairs and the founder of the Beyond Affairs Network (BAN) states, "Any outside relationship with a sexual or an emotional connection that is kept secret from the spouse is a threat to the marriage and can legitimately be defined as 'an affair.'"
It's Not Enough
Some believe that having a good marriage is sufficient protection, but that alone is not enough to prevent potential pitfalls. Unfortunately, serious marital problems need not be present for affairs to happen. Allowing certain circumstances can make you easy prey for Satan's deadly snares.
One of the biggest dangers is the common assumption that infidelity could never happen to you. That belief keeps couples from actively working to strengthen their marriage and prevent infidelity from attaining power. It's important that couples understand how and why infidelity happens, and do what it takes to prevent the circumstances that lead to one's succumbing to temptation.
Anne Bercht, author of My Husband's Affair Became the Best Thing That Ever Happened to Me (and current director of BAN) experienced first-hand the pain of her husband's infidelity. She shares both what is not enough to prevent infidelity, and offers suggestions to safeguard our marriages.
One of the myths about extramarital affairs is the idea that it is sufficient to simply have certain attitudes and beliefs. Appropriate attitudes and beliefs are needed for marriage protection, but these things alone leave out the necessary component of taking action on our part.
Anne Bercht suggests the following eight attitudes and beliefs that alone are insufficient to protect your marriage from infidelity:
Being in love with your spouse. That's not enough.
Having similar backgrounds and values. That's not enough.
Having high moral principles and/or strong religious convictions. That's not enough.
Having mutual trust. That's not enough.
Taking your marriage vows seriously and intending to be faithful. That's not enough.
Having children together and being a devoted mother/father. That's not enough.
Concerns about consequences, such as hurting others or getting caught. That's not enough.
Having no apparent opportunity for infidelity—including no free time, never traveling for work, etc. Not having opportunities is still not enough.
These eight items are not enough to prevent the possibility of infidelity. In Part I of this article we'll discuss the following five actions that must be added to the mix in order to affair proof your marriage. (In Part II, we'll discuss additional safeguards.)
Be introspective. Develop greater self-awareness
Avoid selfishness
Communicate openly about anything
Acknowledge and discuss attractions to others with your spouse
Avoid secrecy
5 Ways to Affair Proof Your Marriage
1. Be introspective. Develop greater self-awareness.
Both husband and wife need to consciously work at understanding themselves better. You can ask yourself questions such as: "Why do I feel this way?" "Why am I unhappy?" or "Where might I have some vulnerability in our relationship?" Learn to be honest with yourself, so that you can be honest with your mate.
Anne Bercht shared the following interchange between her and her husband about the importance of being self-aware enough to understand each other's needs, and be able to communicate them clearly to each other:
During the process of our healing one day Brian asked me, "Remember when I told you that the reason that you never had an affair was because I had been a good husband, and the reason why I had an affair was because you were a bad wife?" I remembered, clearly. "Well, I was wrong," he said. "It was easy for me to be a good husband because you understood yourself and were able to communicate your needs to me clearly. You never stood a chance of being a good wife, because I was not able to communicate my needs to you."
2. Avoid selfishness.
We live in a Me, Me, Me society that promotes self-fulfillment and self-interest. We keep hearing that we need to do what's best for ourselves with little regard to what's best for one's marriage or one's family. We rarely hear the call for self-sacrifice and making choices based on the greater good. Thinking of others and their needs is an important ability for husbands and wives to develop.
Think about how much time and energy you spend thinking about and doing things for your own benefit, versus how much you think about and do things for others (especially your spouse). Selflessness is a learned behavior. It doesn't come naturally for most of us.
3. Communicate openly in marriage about anything.
Ongoing honest communication is needed about all marital issues—not just the easy stuff. If this honest interchange is difficult for you, or is something you haven't been doing in your marriage then you may need to start out with an easier approach like communicating other less threatening thoughts and feelings through writing (letters or email). You might also utilize the helpful little book 365 Questions for Couples by Michael J. Beck.
In many marriages couples learn to be dishonest with each other. They withhold sharing important information about themselves, because of the response they get. If you or your spouse responds with anger, resentment, or the silent treatment then the other will certainly learn not to ever be honest again.
Do all that you can to allow your spouse to be honest with you even if you may not initially like what you hear. Learn to compassionately share yourself and receive your spouse's true feelings as well.
4. Acknowledge and discuss attractions to others with your spouse.
It's important for both husband and wife to know that attractions are pretty normal, and fairly likely to happen. Period.
As I've previously mentioned, you might not want to start "opening up" to your spouse by mentioning that you are attracted to someone at work or church. You might begin by seeking to learn more about the inner experience of your spouse by sharing your personal thoughts and feelings.
It's important to think about how your spouse might receive such information about being attracted to someone else, and what you can do to soften the pain that may occur. As difficult as such disclosures may be they are a lot better than disclosures that will inevitably occur should an affair happen.
How might you go about discussing attractions with your spouse? You might mention reading this article and the suggestion to share your vulnerabilities and potential attractions. You could either ask them if they've ever felt attracted to anyone else, or you could share an occurrence that you have had.
One woman told me she had a friend that her husband was working with in a church assignment. She wondered if there could be a possibility of some feelings there. So, one day she teasingly said to her husband, "Now if you ever start having feelings for so and so, I hope you'll let me know…" then she paused before adding with a smile, "so I can beat her up!" They both laughed. She said that really set the stage for them to be able to discuss such things without it being too intense.
Remember that attractions are pretty natural, and may occur, but that doesn't mean you are headed for an affair. It's what you do about it that matters.
5. Avoid secrecy in your marriage.
Secrecy is to infidelity, what sunlight and water are to plants. Secrecy breeds and empowers infidelity. This is why it is so important to be able to share your attractions or temptations with your spouse. Obviously, this takes a healthy level of intimacy to share such information, but that is also what helps to affair proof your marriage.
My husband and I were talking about this some time ago, when he asked if I had ever felt attracted to anyone. It was a little weird to consciously think about it and to share a time or two when there may have been some attraction. But somehow in the process of having the discussion any energy associated with it was gone.
The light really has power over the darkness. I could certainly see how such discussions could have a protective factor, and help couples avoid inappropriate intimacies.
In the next part of this article we'll discuss additional actions you must take to safeguard your marriage from infidelity. Extramarital relationships may be enticing, but they are nothing more than Satan's great counterfeit of the real thing in marriage. Do what you must to strengthen and protect your marriage, and keep it alive and thriving.
RELATED ARTICLE: "Affair Proofing Your Marriage, Part II"