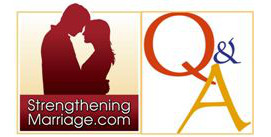 Q&A Call #1 Audio (3/20/14)
$9.95
"Sexually Speaking — Live Q&A with Laura #1" — You get to learn about sex! How fun is that! Join best-selling author, marriage counselor and sex therapist Laura M. Brotherson, MS, MFT for an educational Q&A discussion about marriage, sex and intimacy issues.
This 90-minute session gives you the chance to get answers you've been wanting so that you can create the kind of intimate and passionate marriage relationship you desire! It's kind of like a family-values version of the "Dr. Ruth" show!
If you'd like to be a part of the next "Sexually Speaking — Live Q&A with Laura" online teleconference call CLICK HERE to register!
In Stock
"Sexually Speaking — Live Q&A with Laura #1" Recording (3/20/14)
TOPICS
How to find joy in sexual intimacy when busy and overwhelmed with kids and life.
Finding joy in marital intimacy without the guilt.
Understanding how women need arousal before they feel desire.
Guilt over breast augmention. Identifying useful vs. useless thoughts. Enjoying and appreciating what you have.
Spouse with sexually traumatic experience as a child.
Understanding the dynamic of wanting sex before marriage vs. many women not wanting it so much after.
How often married couples have sex. What's average/ideal?
Sex Toys in marriage? For, against, or neutral toward them?
What types of things should we be teaching our teenage daughters about sex?
Expectations Sex. Feeling pressured to have sex after date night.
Spontaneous sex vs. Scheduled sex.
How to help wives initiate sex some.
Lopsided sexual desire and initiation of sex.
———–
PLEASE NOTE:
A link to the downloadable audio for this Q&A session will be sent to you in the order confirmation email after purchase is completed.