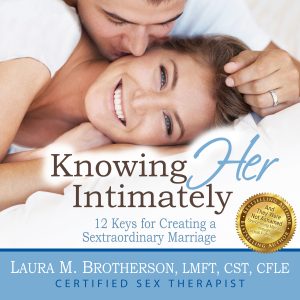 Knowing HER Intimately: 12 Keys for Creating a Sextraordinary Marriage (Audio Book)
Price Not Announced
No time to read?! This audio book is available for downloadable purchase at the links below for convenient listening anytime — day or night, at home or on the go! Now you can go about your day while also learning how to strengthen your marriage intimately.
Amazon.com
Audible.com
DeseretBook.com
iTunes
---
PLEASE NOTE:
Although this page shows a price of $0.00, it is not a regular product purchase page, but an informational page to provide links to where you can purchase the downloadable audio through other outlets each with their own pricing. This downloadable audio book is not directly available from this Strengthening Marriage Online Store. You must click on the links provided to purchase.
In Stock
By Laura M. Brotherson, LMFT, CST, CFLE 
Unlock HER Mysteries…! Women have been mysteries to themselves and their husbands for too long. Knowing HER Intimately: 12 Keys for Creating a Sextraordinary Marriage is the ultimate how-to handbook—power-packed with hope and help for creating the intimate and passionate relationship God intended. Taking a respectful, yet straightforward approach, this "sex-therapy-in-a-book," helps couples navigate the intricacies of intimacy to strengthen their marriages. Laura outlines 12 key areas (12 T's) of sexual wholeness to take your relationship to the next level…intimately!
Audio Book Release Date — March 30, 2017
Length — 16 hrs
---
TABLE OF CONTENTS
Chapter 1 — TRANSFORMED – Embracing Your Identity as a Sexual Being
Chapter 2 — THOUGHTS – Sexy is a State of Mind
Chapter 3 — TENDERNESS – Creating a Secure Foundation
Chapter 4 — TIME – Making Sex a Priority
Chapter 5 — TRANSITION – Getting There
Chapter 6 — TALK – Talk Me into It
Chapter 7 — TOUCH – Touch Me into It
Chapter 8 — TECHNIQUE – The Intricacies of Her Sexual Wiring
Chapter 9 — TUNED IN – Getting in Sync Emotionally and Sexually
Chapter 10 — TEASING – Putting the Fun and Flirty into Sex
Chapter 11 — TREATS – Keeping the Spark Alive
Chapter 12 — TRANSCENDENCE – Letting Go and Trusting God
---
WHAT PEOPLE ARE SAYING ABOUT "KNOWING HER INTIMATELY"
"We love this book!! We are excited to have someone else promoting concepts regarding women and sex in marriage that correct the common cultural myths and promote what we believe are sound, biblically based approaches to bring about mutual fulfillment for both spouses. Knowing Her Intimately provides practical approaches to self-measure and self-correct that are creative, new and will enhance the process of women knowing themselves and sharing themselves more freely in their marriages."
—Joyce and Cliff Penner, Christian sex therapists, authors of Restoring the Pleasure, The Gift of Sex, and The Way to Love Your Wife, PassionateCommitment.com
---
"Our dear friend, Laura Brotherson, has done it once again! In her newest book, Knowing Her Intimately, she smoothly strips away the awkwardness and reveals exactly what women struggle with when it comes to the bedroom. We all WANT to be more intimate, and this book helps define the how and the why to get there! Laura dives right in, to identify thoughts and beliefs that keep women from embracing their sexuality in marriage, and the BEST part…?!  She shares actionable steps at the end of each chapter to help you obtain that level of intimacy you've always craved. I'm telling you, Laura is a sex-therapist rockstar and this is a must-read! Your husband will thank you!"
—Tara Carson, Founder of TheDatingDivas.com
---
"Laura Brotherson helps couples focus on changing themselves for the better to create a profoundly meaningful and intimate marriage relationship."
—Richard Paul Evans, #1 New York Times Bestselling author of The Christmas Box, and "How I Saved My Marriage" blog post, RichardPaulEvans.com
---
"We all want the same thing: a truly intimate relationship–to know and to be fully known. Laura Brotherson has written an insightful road map for how to get there. Join the journey!"
—Priscilla Hunt, Executive Director, BetterMarriages.org
---
"Laura Brotherson is an absolute treasure! Her natural beauty is exceeded only by her wisdom and insights that continue to help so many couples create passion and fulfillment in this crucial aspect of marriage."
—Mark Gungor, author of Laugh Your Way to a Better Marriage, MarkGungor.com