Sale!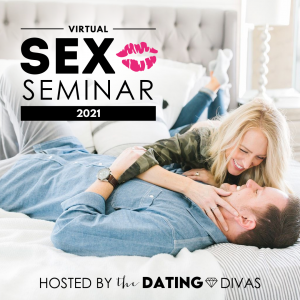 "Dating Divas Sex Seminar" 2021 & 2020/2021 Bundle
$35.00
"Dating Divas Sex Seminar" 2020 (Online) & 2020/2021 Bundle
Improve your sex life from the privacy of your own home!!
We've teamed up with The Dating Divas and other experts to put together an amazing online SEX SEMINAR! This fabulously incredible resource will help you figure out how to have your own "sextraordinary" marriage!! Laura M. Brotherson, LMFT, CST is one of the fourteen experts providing must-have insights into how to "want to!" Her topiic is — "'I Want to Want to!' What Couples Need to Know & DO for HER to Want to."
Not only can ALL of this information be absorbed from the privacy of your own home and the comfort of your couch, but you can revisit it whenever you need for 1 year! Normally $35 for this seminar, you can get it for $15 off using our link, making this only $20 for expert insights!! Or, if you want DOUBLE the sexy goodness, grab the 2020 Sex SEminar videos too for JUST $30 total!

CLICK HERE – for all the details
CLICK HERE – to purchase the 2021 Sex Seminar
CLICK HERE – to purchase the 2020 & 2021 Sex Seminar Bundle
Out of Stock
Mis-matched sex drives, boring routines, unspoken desires, or even more serious issues can turn the bedroom into a source of stress & frustration. Above all, your marriage needs to be connecting and enjoyable! That's why we are so excited to share a BRAND NEW resource with you that will totally transform your sex life in the very best way!
In addition to all the insights you'll get from 14 sex-perts, Laura will be addressing:
the intricacies of female sexual wiring
12 dimensions of female Sexual Wholeness
4 steps needed for women to warm up to Desire
What husbands need to know and do to help their wives to be able to genuinely Want To!