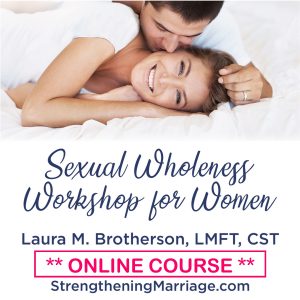 Online Course for Women
$795.00
AVAILABLE – NOVEMBER 2020! Pre-purchase this phenomenal, one-of-a-kind, online course for the pre-release price before it goes up November 1, 2020!!
Are you ready to embrace your God-given sexuality?! Then you need this online version of our "Sexual Wholeness Workshop" for women. Many couples find that the sexual relationship is the main source of frustration and contention in their marriage. They don't know what they can do about it.
We shed light on how women can embrace and develop their sexuality as God intended–delving deeper into Laura's 12 T's of female sexual wholeness addressed in her book – Knowing HER Intimately: 12 Keys for Creating a Sextraordinary Marriage.
Pre-purchase Laura's 12-week online course and begin your transformative journey toward embracing your sexuality and creating your own "sextraordinary" marriage!!
CLICK HERE — to pre-order at this discounted price!
("Out of Stock" is displayed because you must click link to go to the purchase page)
Out of Stock
Are you tired of sex being a constant source of contention in your marriage?!
Are you ready to learn how to embrace and nurture your God-given sexuality as part of your wholeness?!
Are you ready to take your sexual relationship to the next level?!
Online Course Details
Over 30 hours of learning and therapeutic processing (worth over $5000 in counseling)

Additional option of small "process groups" with Laura herself

Insight, fun, transformation…and MUCH MORE!!