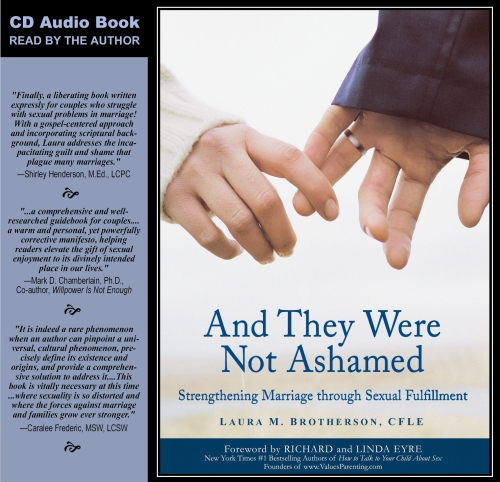 And They Were Not Ashamed — Strengthening Marriage through Sexual Fulfillment (Audio Book, Unabridged)
Price Not Announced
$21.99
No time to read?! This audio book is available for downloadable purchase at the links below for convenient listening anytime — day or night, at home or on the go! Now you can go about your day while also learning how to strengthen your marriage intimately.
---
PLEASE NOTE:
Although this page shows a price of $0.00, it is not a regular product purchase page, but an informational page to provide links to where you can purchase the downloadable audio through other outlets each with their own pricing. This downloadable audio book is not directly available from this Strengthening Marriage Online Store. You must click on the links provided to purchase.
In Stock
By Laura M. Brotherson, MS, MFT, CFLE
12 CDs
14.5 hrs running time
ISBN: 1-58783-038-8

Finally! a book about physical intimacy and marital ONEness that is comprehensive, in-depth and frank, yet still respectfully reverent. And They Were Not Ashamed–Strengthening Marriage through Sexual Fulfillment by Laura M. Brotherson is the ultimate how-to handbook–power-packed with hope and help for creating a mutually fulfilling intimate relationship.
As three books in one, this "marriage book," "sex book" and "parenting book":
Shines light and truth on the intimate marital relationship, restoring sex to its proper position as ordained of God
Effectively addresses, with self-help solutions, the emotional, spiritual and physical intimacy issues that plague so many marriages, paving the way toward complete ONEness in marriage
Provides principles and practices to help parents teach and better prepare their children for intimacy and lasting fulfillment in marriage.
---
WHAT PEOPLE ARE SAYING ABOUT "AND THEY WERE NOT ASHAMED"
"This book is SIMPLY AWESOME!! It provides step-by-step instructions on how to start a fire in your relationship that will never go out. Simply put, this book hits a GRAND SLAM on a very difficult topic. This book has changed my relationship with my Wife forever!!!"

~~~~~~~~~~~~


"Your book has changed my life. I now have a very fulfilling intimate relationship, and my husband is the happiest man in the Valley!"

~~~~~~~~~~~~

"This book is wonderful! It caused me to have a real epiphany regarding marital intimacy. I have read many other books, but this is the one that really changed my life."

Read Sexual Success Stories of other customers.
---
TABLE OF CONTENTS
Chapter 1: The Good Girl Syndrome
Chapter 2: The Sanctity of Sexual Relations in Marriage—Building a Foundation of Faith
Chapter 3: The Symphony of The Female Sexual Response, Part I
Chapter 4: The Symphony of The Female Sexual Response, Part II
Chapter 5: Creating Understanding and Empathy for Sexual Differences
Chapter 6: Sexual Stewardship—Sexual Fulfillment in Marriage
Chapter 7: Overcoming Barriers to Sexual Fulfillment in Marriage
Chapter 8: ONEness—The Ultimate Purpose of Marriage
Chapter 9: The Search for Intimacy and ONEness
Chapter 10: Becoming One—Emotional Intimacy
Chapter 11: Becoming One—Spiritual Intimacy
Chapter 12: Becoming One—Physical Intimacy
Chapter 13: Marital Stewardship—Covenants, Commitment, and Challenges
Chapter 14: Preparing Future Generations for Sexual Fulfillment in Marriage—Preparing to Teach
Chapter 15: Preparing Future Generations for Sexual Fulfillment in Marriage—What to Teach
Chapter 16: Preparing Future Generations for Sexual Fulfillment in Marriage—When and How to Teach