-------------------------------------------------------------------------------------------------------------------------------------------
"Straight Talk about Strengthening Marriage!"
Newsletter & Updates -- September 14, 2006

www.StrengtheningMarriage.com
Your #1 resource for education, products, and services to strengthen marriages intimately!
-------------------------------------------------------------------------------------------------------------------------------------------
CONTENTS
(1) Straight Talk Q&A
-- My husband needs sex more often than me
-- Prolonging the pleasure in lovemaking
-- Getting educated about the female sexual response
(2) Couples' Valentine's Cruise Special...thru Sat. Sept. 16, 2006
(3) Women's Online Expo
------------------------------------------------------------------------------------------------------------------------------------------

1~ Straight Talk Q&A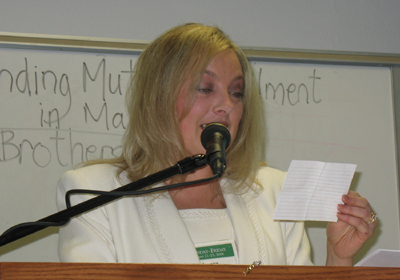 During a recent seminar I received some questions that may be of value to
you in strengthening your marriage...intimately!

Question:
What do you do if your husband has a greater need for more frequent
lovemaking than you do, and you feel a pressure to not disappoint him?

Answer:
The concepts of supply and demand, as well as quality versus quantity can
be helpful in understanding the issue of frequency of lovemaking, or so-called
desire discrepancies. If the supply of sexual relations is low in the relationship,
the demand for it naturally increases. If someone hardly ever gets to eat a
dessert that they love, it can become something they begin to crave and even
obsess about, potentially leaving the other spouse to believe that it will never
be enough. But it's not really the issue of quantity that's the real problem....

To read the rest of the answer click here.
~~~~~~~~~~~~~~~~~~~~~~~~~~~~~~~~
Question:
How can I prolong the pleasure of lovemaking with my husband? It seems
like it's over too quickly.

Answer:
One of the best ways to prolong the pleasure of lovemaking is to learn to find
greater pleasure in ALL aspects of the lovemaking. Every touch, every sensation,
every glance has the potential for stoking the fire of passion and connection
during lovemaking. In chapter 12 of "And They Were Not Ashamed" you'll find
a section of specialized Sensate Focus exercises that are great for couples to
learn to savor each touch, and be more fully present and connected during the
entire lovemaking experience....

To read the rest of the answer click here.
~~~~~~~~~~~~~~~~~~~~~~~~~~~~~~~~
Question:
You mentioned the need for couples to get educated sexually and particularly
to learn about the female sexual response. What are some good resources
you could recommend to my wife and I?

Answer:
Check out chapters three and four of the book "And They Were Not Ashamed--
Strengthening Marriage through Sexual Fulfillment." These chapters detail new
insights regarding the female sexual response, including a new first phase
defined as a "warm-up/preparation" phase. Another key is the need to reverse
the clinical phases of Desire and Arousal, particularly when considering the
female response....
To read the rest of the answer click here.
~~~~~~~~~~~~~~~~~~~~~~~~~~~~

2~ Couples' Valentine's Cruise Special...thru this Sat. Sept. 16, 2006

Don't miss out on the special offer available through this Saturday, September
16 at 5 p.m. The Couples' Cruise cabins start at $649, with balcony rooms
starting at $847. This special offer allows you to make a deposit of only
$100/person instead of $250/person, AND provides a Princess Cruise coupon
book valued at over $120 worth of savings you can use on the cruise.

What: Couples' Valentine's Cruise, Western Caribbean
When: Sat. Feb. 10 - Sat. Feb. 17, 2007
Where: Leaving from Galveston, Texas (fly into Houston)

Ports
Day 1 Sat-- Galveston, Texas
Day 2 Sun-- At Sea -- 2 hour Marriage Seminar
Day 3 Mon-- Costa Maya (Mahahual), Mexico
Day 4 Tue-- Roatan, Honduras
Day 5 Wed-- Belize City, Belize
Day 6 Thu-- Cozumel, Mexico
Day 7 Fri-- At Sea -- 2 hour Marriage Seminar
Day 8 Sat-- Galveston, Texas

Suggested Marriage Seminar Topics
-- "How Do I Get My Spouse to Change?!"
-- "Identifying and Overcoming Inhibitors of Intimacy"
-- "Secrets of the Female Sexual Response"
-- "What Your Parents Never Taught You about Sex and Intimacy in Marriage"
-- "Finding Mutual Fulfillment in Marriage"

Call Cruise Planners today to find out more. You can also request the exciting
"2006 Cruise Highlights" DVD for a small cost, and see just how much fun
this cruise will be!

Phone: (866) 446-4218
Email: cruiseplannersvp@earthlink.net
For additional information about the cruise, and to see cruise photos visit:
http://www.strengtheningmarriage.com/cruise.php

~~~~~~~~~~~~~~~~~~~~~~~~~~~~~~~~~~~~~~~~~~~~~~~
"This cruise not only allowed us to completely re-frame how we
view our sex lives together, but our whole marriage."
~~~~~~~~~~~~~~~~~~~~~~~~~~~~~~~~~~~~~~~~~~~~~~~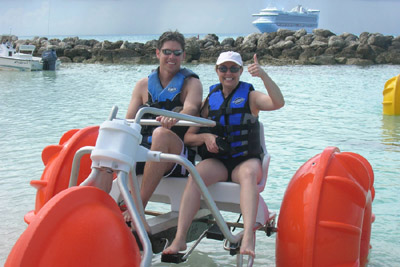 3~ Women's Online Expo

Get in the Click at this virtual Women's Expo at www.Top500WomenLinks.com.
Rate your relationship, or add your own website or business. You'll find us
listed under "Intimacy" and "Sexuality."

---------------------------------------------------------------------------------------------------------------
"Straight Talk about Strengthening Marriage" newsletter and updates
are designed to strengthen marriages, and build strong families—
written by the author of the book "And They Were Not Ashamed —
Strengthening Marriage through Sexual Fulfillment." Visit
www.StrengtheningMarriage.com to learn more. We welcome your personal
feedback at Laura@StrengtheningMarriage.com
---------------------------------------------------------------------------------------------------------------
SUBSCRIBE — If this email was forwarded to you and you would like to
subscribe, send an email to Lists@StrengtheningMarriage.com with
"Subscribe" on the subject line.
UNSUBSCRIBE — To unsubscribe from receiving future newsletters and
updates send an email to Lists@StrengtheningMarriage.com with "Unsubscribe"
on the subject line. If you receive a duplicate of this email, please let us know.
We apologize to those who may have inadvertently received this mailing in the
process of us upgrading our email system.

All outgoing messages scanned by Norton AntiVirus.
--------------------------------------------------------------------------------------------------------------